EISENHOWER JACKET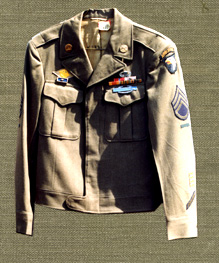 Of all items of military apparel retained by WW2 vets, the most common is the Eisenhower jacket, commonly called an "Ike" jacket. The example at left, is typical of a 101st trooper who went all through the major campaigns. This specimen belonged to Walt Kawalek of Co.'D' 502 PIR. Of course he wears the Combat Infantryman's Badge (CIB), which paratroopers wore below the wings until mid 1945. His wings have no regimental background behind them(wear of the 502 oval was quite limited), and his ribbons include the Bronze Star, Purple Heart with a cluster indicating 2 wounds, Good Conduct Medal, American Campaign Ribbon, and ETO ribbon with four campaign stars and a bronze arrowhead. The arrowhead is for spearheading the Normandy and Holland invasions. Although he was entitled to more than one, only one arrowhead was worn.
At the collar are brass dics, indicating Infantry service with a blue Presidential Citation ribbon and cluster on the right chest (Normandy and Bastogne) and a 'ruptured duck' Honorable Discharge patch above the unit citation ribbon. Visible on the sleeves are staff sergeant chevrons, as well as the horizontal, green combat leadership strips for EMs. A single diagonal 'hashmark' on the left cuff indicates 3 years service in the Army.
Probably because the 4 pocket blouse was discontinued in April, 1945, more vets seem to have retained the Ike jacket than any other garment.
Four Pocket Class 'A' Blouse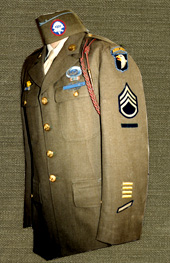 This is a typical early 4 pocket Class 'A' blouse, worn for dress occasions and walking-out. It belonged to Staff Sgt Willard Meeker, who was an original member of B/327th GIR. Bill went through TPS at Ft Benning and although a qualified jumper, was assigned directly to B/327th. He thus wears jump wings, although he entered Normandy by sea and Holland by Glider. Bill was eligible to wear both Glider and Parachute wings, but wearing of both was prohibited at the time, so Bill opted to wear his jump wings on a 2 shade blue wing oval. Bill's left shoulder bears a Belgian Fourregere lanyard for Bastogne, and a Type 7 eagle SSI, sewn with x shaped blue stitching by a former civilian tailor in his company. Four 'Hershey Bars' and a hashmark on his lower left cuff indicate 2 years overseas and 3 years in the Army. Infantry collar brass, an ETO ribbon, Presidential Unit Citation, and Ruptured Duck discharge patch complete the insignia.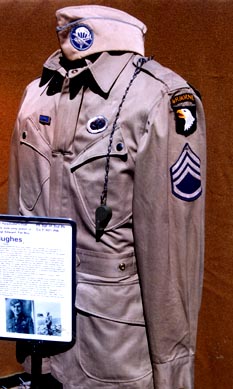 This early M41 "Coat, Parachute Jumpers", was issued to Sgt Ed 'Fat Boy' Hughes of 2d plt F/501 at Camp Toccoa, GA in late 1942. Not realizing it was an earlier version of the M42 jump jacket, Ed thought it was a factory defect and saved it for special occasions. He liked being different and appreciated its uniqueness, wearing it only at formations and on special occasions. Note the narrow, single snap pocket flaps. As in early M42 jackets, the snaps and zipper are made of brass. The pockets, chest, and back lack the expandible bellows quality of the later M42 jacket. Most of the belt is sewn flat against the waist and a snap on the belt supplements the metal buckle. After VE-day, Ed instructed at TPS, Ft Benning, and added the concentric white, red, and blue wing background of the 1st Parachute Training Regiment.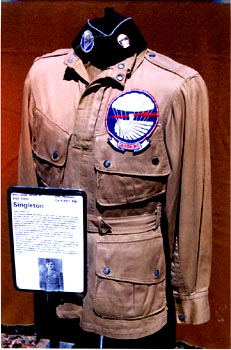 This M42 jacket was worn by Elmo Singleton of New Albany, IN, who served in Hughes' platoon as mortar sgt. Typical of jump jackets worn in the states by 501st men, it has a Geronimo pocket patch on the left chest, overlapping the pocket flap. (Some vintage photos show 501st men wearing the pocket patch on the right chest). The unusual thing about this jacket is that the cuffs were put on the wrong arms at the factory, causing the two wrist snaps to be at the front of the wrist on each sleeve.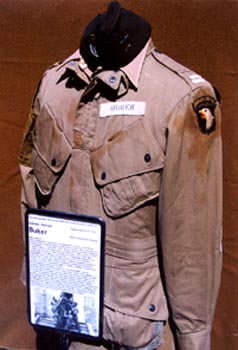 Captain George Buker, the Regimental S-2 Officer of the 502 PIR, wore this gas-impregnated, reinforced M42 jacket in Normandy. It bears a white name tape on the left chest, as well as officer rank bars made of sewn suspension line strips ( see Simmons' Jacket on page 2), and a round-domed Type 6 eagle patch, with red tongue. A photo of Buker wearing this very jacket can be seen on page 141 of 'Vanguard of the Crusade'. After WW2, George settled on the west coast with his English bride, and wore out the matching rigger-modified trousers while fishing.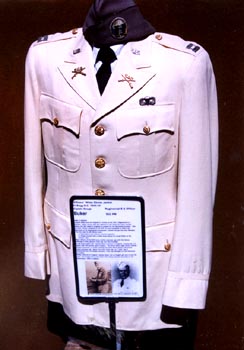 This officers' White Dinner Jacket also belonged to Captain George Buker. When Buker arrived at the 502 Regiment in 1942, Colonel George van Horn Moseley gave him the standard instructions to all new officers joining the 502 PIR: "Subscribe to Infantry Journal magazine, and equip yourself with a White Dinner Jacket, for social affairs at the Officers' Club." The postwar examples I've seen of these jackets are of a thicker white material, and in the 1950's they were discontinued in favor of the Navy Blue dinner tuxedos, still in use. This jacket is displayed with an officers' 'Pink' overseas cap, as I don't have a white one-there was a white overseas cap made to match this jacket. Visible are the set of '502' officers' numbered lapel rifles.




Meeker's M43 Jacket-Modified to Ike Length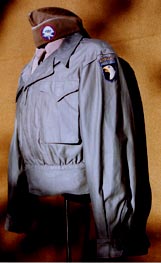 S/Sgt Bill Meeker, a jump-qualified member of B/327th GIR, had this M43 jacket cut down to 'Ike' jacket proportions by a lady seamstress in Germany soon after VE-Day in 1945. The two lower pockets were removed along with the 'skirt' of the jacket. A short, intergral belt fastens through a steel buckle on the lower right waist and snaps into place. The Type 5 screaming eagle SSI on this jacket was beautifully sewn with crisscrossed blue thread, by Bill's buddy, who had been a tailor in civilian life.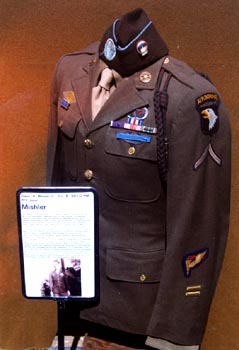 This is the Class 'A' 4 pocket dress blouse of Pfc John Mishler, B/501. John jumped into Normandy with the Pathfinder stick of Lt Albert 'The Gremlin' Watson, to provide security. Although not a trained radar signaller, Mishler was thus qualified to wear the Pathfinder wing shown on the left sleeve. Near Mont Belgium, east of Bastogne, Mishler KO'd a German tank with a bazooka on 21 Dec., 1944, winning the Silver Star Medal. He was wounded later in the Bastogne campaign and returned to the states. Mishler died in 1985.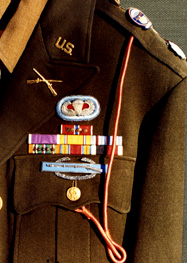 This closeup of LTC Sammie N. Homan's 4 pocket green officer blouse gives details of his decorations. Of note are the 501st plastic DI, worn on the epaulette as was the practice for officers, a commercially purchased 501 wing background with British made jump wings, and a special, unusual CIB, having a very 3 dimensional musket. The Dutch Orange Lanyard is visible and the 'V' for Valor device was probably a postwar feature, indicative of Homan's career, which continued into the late 60s when he was an assistant Corps Commander in Vietnam. Sammie started as a captain with the 501, commanding Company F through Normandy. In Holland, he was XO of 1st Bn under HWO Kinnard. At Bastogne, he aasumed command of the entire 2d battalion, ending WW2 as a LTC.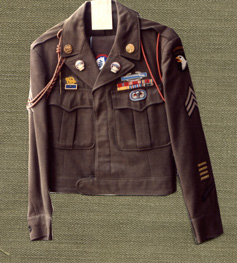 Leonard Morris performed numerous heroic acts during WW2, some of which are described in my 'Vanguard of the Crusade'. He was in 3rd platoon of H/501. Len's Ike jacket features jump wings mounted on a pvt purchase wing background and placed BELOW the CIB. Of the over 30 101st dress uniforms in my collection, this was the only one I received with the wings placed below the other decorations. The beautiful 501st plastic enamled DIs are visible at the lapels. A Belgian Fourregere is mounted on the right shoulder, while a Dutch Orange Lanyard is placed on the left. A typical Type 1 SSI is at the left shoulder and buck sgt (squad leader) chevrons are placed on each upper arm. The other decorations are much as described on the uniforms above.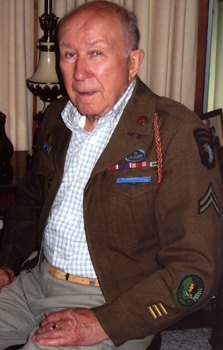 Corporal Dick Ladd's Ike jacket is customized with a zipper added, in addition to the usual plastic buttons. He added a Type B-4, British-made bullion SSI and an unauthorized, Brit made S-2 patch on the left sleeve.
When Dick received a Bronze Star Medal from LTC Chappuis in mid 1945, a photo was taken of him wearing this same jacket. However, at the time the photo was made, Dick wore a US made Type 3 shoulder patch and he substituted the B-4 later in 1945, when he bought five of those at a Army-Navy shop in Paddington Station, London. The sales receipt for the B-4s, indicates they were paid for on September 10, 1945.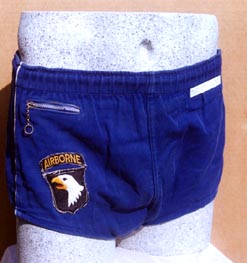 It was the idea of Colonel Robert Sink to have his troopers wear blue swimming trunks as a warm weather exercise uniform, starting in Camp Toccoa. Originally a blue and white parachute infantry cap patch or Para Dice patch was worn on the blue shorts. The pair shown above was issued to Art'Jumbo'DiMarzio, of D/506th after he joined the 506th in England before D-Day. Evidently, the 101st eagle patch became the prescribed insignia once overseas. This bears a Type 4 amoeba eye patch, mis-matched with a Type 1 Airborne tab. Note the white piping and small zippered watch pocket. Below, Nadine Wierzbowski modelling DiMarzio's trunks and an original Camp Mackall T shirt of 1943 vintage in Orlando, 2001.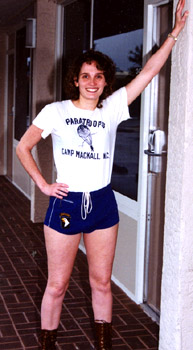 Another Vintage Example of 506th PIR Exercise Shorts
Collectors who frequent this site have seen the dark blue shorts which have a white stripe on the side, attributed to Bill Guarnere of E/506th. You've also seen the medium blue shorts from Art DiMarzio of Dog Company. In the summer of 2009, while visiting Merlin Shennum of Fox Co., I acquired the much lighter blue shorts which he was issued at Camp Toccoa, GA in 1942. Some vintage pics do exist showing 506th troopers at Toccoa, wearing trunks of a lighter shade. In addition, Merlin says the color has faded slightly on these, however, they never were much darker. Interestingly, they also never bore any patch of either the cap, shoulder, or pocket variety. If you look closely, you'll see several small burn holes, from mishaps with cigarettes.



Images and information on Uniforms pages Copyright Mark Bando, September, 2000