MARK BANDO'S WEBSITE





More 101st Insignia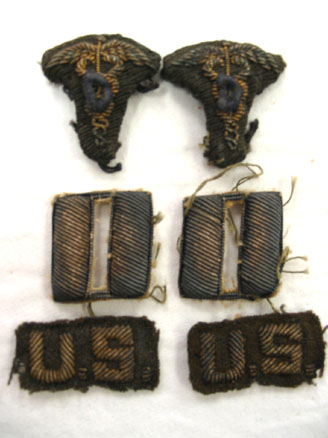 This set of collar insignia for an officer's blouse was made for one of the regimental dentists of the WWII 101st Airborne. Hand-embroidered to a OD wool base, using metallic wire thread, these were created in England. What is rare and unique are the 'D's added to each medical caduceus.



Distinctive Insignia (DIs)




Above left is the Distinctive Insignia (DI) worn by members of the 321st Glider Field Artillery Battalion (GFAB), on the lapels and overseas caps of enlisted men and on the epaulettes of officers. This specimen is still on the manufacturer's card. The design incorporates lion paws and the Latin motto :"Noli Me Tangere" courtesy G. Dettore collection.
The 377th design at right, is by LTC Ben Weisberg and most examples were made by A.H. Dondero in Washington, D.C. Some theatre-made examples are only marked 'Sterling' on the reverse.
A lot of funky-looking postwar examples of the 377th crest have been offered on E Bay lately. The postwar examples have a differently shaped shield (more rounded) and the base color of the metal is brass. The postwar examples also have 2 clutchback fasteners, instead of a single, long safety pin on the reverse. The WW2 originals are silver, and if they don't look like the above, they ain't WW2. This example courtesy Captain William E. Brubaker.
BTW, I saw a postwar-type 377th DI (larger brass format with different shaped shield), having a long pin across the back, at a SoS, circa 2007. It was quite pricey, but I don't think the DI dealer who was selling it ever owned a real one from WW2. Many collectors and dealers don't know what an original "looks like" and this also goes for the much more common plastic 501st distinctives, as well as obscure ones, like the artillery battalions-321st, 907th and 377th.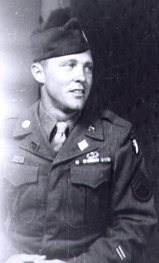 Photos showing the 377th crest in wear seem to be almost non-existent. This one was taken in Europe after VE Day. The trooper depicted is Sgt Roy 'Dingy'DeWitt from CT. Few DIs were taken overseas and it seems that various sergeants took turns wearing this Ike jacket for photos, because it was fully decked-out. Photo c/o John Kolesar of HQ/Battery. Recollections about taking turns wearing the jacket for photos came from Sgt Art Parker and Sgt John Kolesar, also of HQ Battery.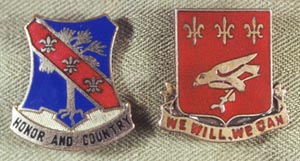 Above left is the cap and lapel crest of the 327th Glider Infantry Regiment (GIR). At right is the obscure crest of the 907th Glider Field Artillery (GFA Bn.). As with most other WW2 era crests, these have a single vertical pin on the reverse with a rotating retaining device. A screwback variation of the 907th DI also exists, which is original to WW2.





WW2 Pathfinder Wing-British Made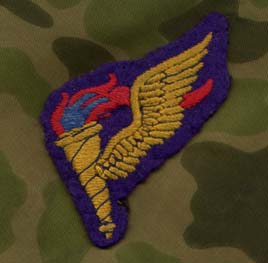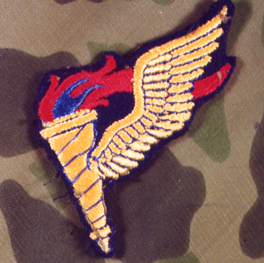 A division Pathfinder School, under Captain Frank Lillyman, was established in Nottingham, England before D-Day. Volunteers from all regiments and some battalions of the division trained there, to learn how to signal incoming formations of troop-carrying planes, using radar, lights, smoke pots,'biscuit guns', and other devices. These patches, which were worn on the lower left sleeve above any hash marks or overseas bars, were originally made in England. The specimens shown, are of typical Brit construction-a cotton design embroidered on a blue wool base.
Any paratrooper who completed the training was eligible to wear this patch, regardless of whether he ever made a combat jump AS a Pathfinder. Of course the actual trained signallers wore it,as well as associated Air Corps Troop Carrier crews. It was also worn by security personnel, who didn't take the PF signalling training, but who parachuted in ahead of the main body of invaders with the Pathfinders, and protected them as they performed their duties on enemy held ground. These security men, chosen from various rifle companies only a week before D-Day, were also eligible to wear the Pathfinder wing. Hilary McKenna, who served as security for Team 1 of the 501st Normandy Pathfinders, provided the example illustrated above left. The example at right was provided by Harry Hendersin of B/506th, who completed the PF signalling training, but who never jumped in a Pathfinder capacity in combat. Harry did make the Normandy and Holland jumps as a PIR rifleman.
Note that the Hendersin wing has been trimmed closer to the wing and torch, leaving a much narrower blue border around them. The patch also appears larger than McKennea's but it is not-this is just a result of the way the images were cropped and saved.
Most original specimens were trimmed in a way that left more blue edging, as with McKenna's specimen. Although both of these specimens are of original British WW2 era manufacture, they were clearly made by different companies. The obverse of Hendersin's type has already been duplicated very closely by the Repro makers.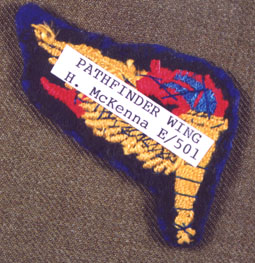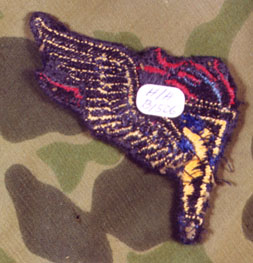 Above, the reverse of 2 original WW2 Brit made Pathfinder Wings, showing variance of construction. Example at left is McKenna's wing. At right is a close-trimmed wing from Harry Hendersin of B/506th. I have another example from Joe Haller (HQ/1 501), which has a almost transparent protective cloth across the back, made of very thin black cloth.



Ultra Rare Bugs Bunny Pocket Patch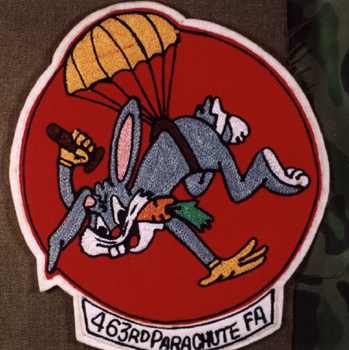 When the 463rd PFAB was supporting the 1st Special Service Force at Anzio, two members drew a pencil sketch of a proposed pocket patch design, while in their foxhole. Al Towar of Detroit and Bill Kummerer of upstate NY, created the concept. Al mailed the sketch to his mother in Detroit and she forwarded it to Warner Brothers studios for approval. The patches were then contracted for and made at a shop on either Grand River or Gratiot Ave in Detroit. The patches arrived in a cake box via mail, when the 463rd was attached to the 101st ABD before the Bulge. When the 101st departed in a hurry for Bastogne, the cake box was left behind, with most of the patches still in it. Only a handful of men took one because they were"unauthorized". As a result, originals are now ultra rare. The disposition of the patches in the box remains unknown.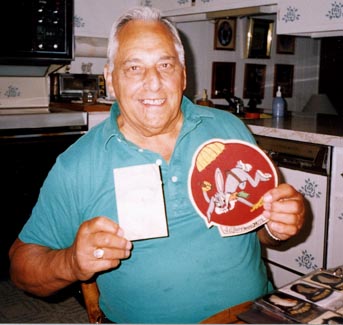 Pictured above is the late Leo A. Traeder of 'D' Battery 463rd PFA Bn, who provided the rare original example of the 463rd pocket patch in the webmaster's collection. This was both the largest and one of the rarest sub-unit patches of the WWII 101st ABD.



Jump Wings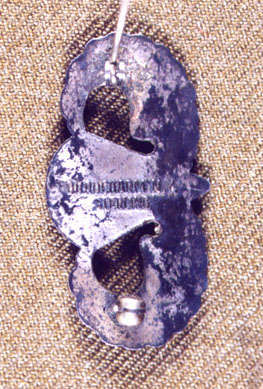 Most parachutist qualification wings (awarded after making 5 jumps at The Parachute School), look pretty similar on the obverse. But it is very difficult to find two marked alike on the reverse. Many companies were manufacturing these during WW2 and to make things better, some companies like Gemsco, had a half dozen different ways of marking their products.
The specimen illustrated above, comes from Major Francis Liberatori (326th AEB) and is one of the more unusually marked examples in my collection. The vertical inscription behind the canopy reads:"Durocharm N.Y." with the world STERLING centered below it.
To better illustrate my earlier assertion, I can tell you that I have about 50 WW2 jump wings acquired from WW2 101st Airborne vets. I don't think more than 6 of them are marked alike.





WWII Vintage Cloth Jump Wings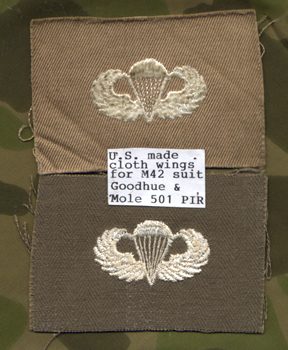 Questions came-up recently (spring 07) about the existence of cloth jump wings during WWII.
Wings of this type were first introduced during WWII and could be sewn onto M41 jackets, M42 or 43 jackets, suntan shirts, etc. The corners were cut out and the edges folded behind the design to prevent it unravelling. The two examples illustrated came to the webmaster's collection via veterans of the 501 PIR. The WWII ADT has a member who is currently having a gold version of these embroidered cloth wings produced for the team. Yes, they were worn during WWII and continued in use well after that war.
I've seen postwar and Korean war era examples, which look almost identical, and of course there are white versions on a OD #7 backgound, which continued to be worn on M-65 jackets during Vietnam and a later black-on-OD subdued version. The purpose of these cloth wings, was to permanently attach them in a way in which they didn't have to be removed and replaced for cleaning or laundering.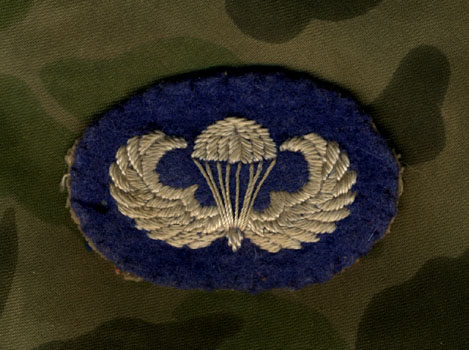 The 502 PIR had these wings made in the UK, for wear on suntan and OD shirts. The center is 'vaulted' (sticks out further) and the wings are made of cotton thread, embroidered on a blue wool base. The example shown comes from Val Colussi H/502 and I have another example, still sewn to a suntan shirt, from E.O. Parmley of F/502.





DECORATIONS

Wear of the Combat Infantry Badge (CIB) by WWII Paratroopers

Collectors and museum curators have asked me WHY they acquire WWII class 'A' paratrooper Ike jackets, with the CIB worn on the pocket flap, BELOW both the jump wings and the ribbons?
Until around the time of VE Day, May, 1945, US Parachute Troops wore their silver jump qualification wings above their ribbons and everything else, including the CIB. Official orders forbade that practice in 1945 and decreed that the CIB should be worn above all other decorations-a mandate which remains in-force to this day. WWII Airborne jackets almost always have the wings above the ribbons and the CIB worn under the ribbons, because most WW2 troopers got out of the Army before the new rule was enforced. I have over 30 named Class 'A' blouses (4 pocket) and Ike jackets from WW2 101st personnel and on only one of them is the CIB placed at the top, as per postwar regulations. When the Ike jackets came-out in 1945, the troopers discovered that there is padding on the chest material, making it so thick, that when you try to pin a clutch-back award like the CIB to the chest (above the pocket), the clutch backs pop-off, as soon as you try to put-on the jacket. The OD material of the pocket flap is much thinner, which is WHY the CIB was placed there, instead of just above the pocket, which would've been more desirable, but in the real world, did not work, when trying to wear the award.
Some Theatre-Made variants of the CIB solved this problem, by placing a long, horizontal pin across the rear length of the badge, enabling it to remain pinned to whatever part of the uniform jacket's chest that was desired. However, clutchback ribbons also had a tendency to pop-off during wear, but fortunately most WWII vintage ribbons also have a long pin across the reverse side. Anyhow, I suggest that collectors display the uniform "as you received it" and if anyone questions it, you now can give them the explanation for WHY the wings are at the top and the CIB at the bottom. That's how WWII paratroopers actually 'wore' those awards,'during' WWII.



Unusual Variant of the Combat Infantrymen's Badge (CIB)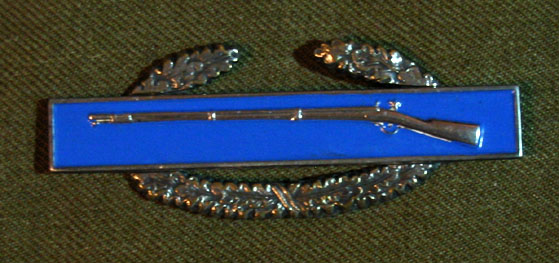 The CIB depicted above looks pretty much like a standard 1-piece, issued specimen. However as will be shown below, it actually has a detachable silver leaf wreath.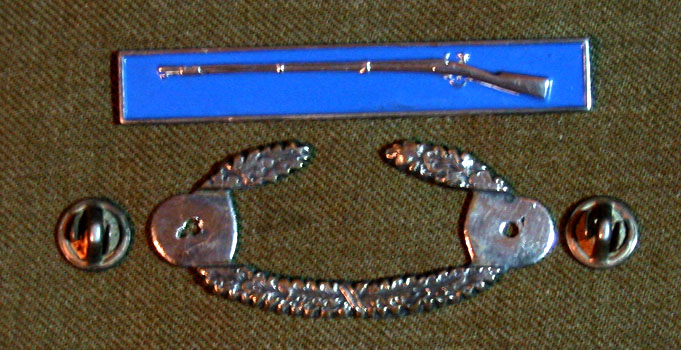 Without the wreath as shown above, the badge is a standard Expert Infantryman's Badge (EIB). This example is equipped with two Sterling Silver clutchback pin fasteners and the reverse of the badge is typically marked only 'STERLING'.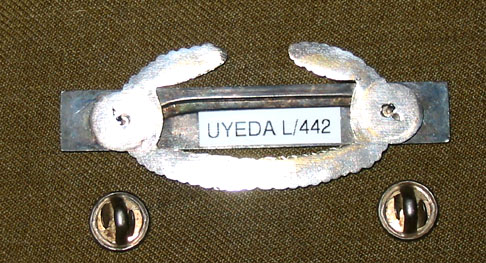 This shows the reverse with the wreath attached.
I first saw a CIB like this one in the 70s in a private collection-however that specimen was without provenance as to the owner or his unit.
In March 2005, while visiting a Nisei veteran of I/442 RCT, I observed two CIB's in his possesion, one a standard one piece example and the other with a detachable wreath.
More recently in November, 2005, I obtained the example depicted above from L/442nd vet T-5 Jessie Uyeda. It may be that issue of this type variant of the CIB was common within the 442nd. Of course two cases don't indicate a trend, but I hope to visit more 442nd guys in the near future and will try to determine how their CIB's were manufactured.

Whether these detachable wreath variants were issued or private purchased, I'd be interested to hear of other examples with unit provenance.





Medals Issued to LTC Robert L. Wolverton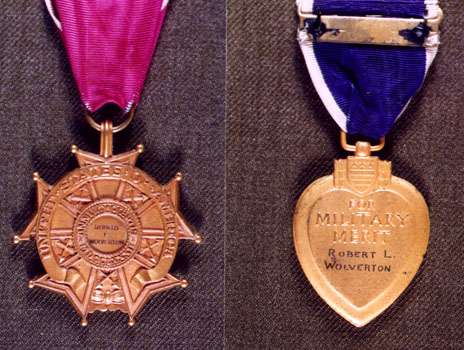 While technically not Insignia, medals and valor decorations probably deserve a page of their own. Government engraving of an individual recipient's name was usually only done if the soldier had been killed in action (KIA). Thus, the vast majority of medals encountered from the WW2 101st Airborne will be generic in appearance. The Silver Star Medals (SSM) and Distinguished Service Cross Medals (DSC) of the WW2 period, generally have a manufacturer's serial number stamped very small, along one edge of the medal. Medal collecting specialists are still puzzling over the codes used on those numbers, trying to establish a pattern or some rhyme or reason to the sequence of numbers awarded at various times, to various units.

The webmaster of this site certainly doesn't know the answers to that mystery, but in the meantime, pictured above are the Legion of Merit and Purple Heart, both Government Engraved, which were awarded posthumously to LTC Robert Lee Wolverton,who led 3rd Battalion of the 506th PIR, throughout training and into Normandy on D-day. LTC Wolverton landed in a tree and was killed before touching the soil of France. He was a graduate of the USMA at West Point, class of 1938, as well as of the Army Command and General Staff school at Ft. Leavenworth KS, in 1942.
Here is the award certificate for LTC Wolverton's Purple Heart Medal



The Legion of Merit Medal was awarded to Wolverton's widow by General Maxwell Taylor, in a ceremony held at West Point a few years after the LTC's death. This award was given for Wolverton's work in training the 3/506th and preparing them for success in battle.



The Silver Star Medal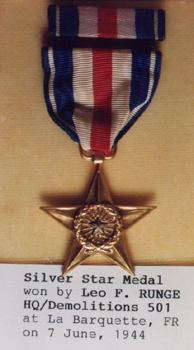 This medal is one of the most cherished items in the webmaster's collection. The story of how Leo F. Runge won this medal can be found in my first book, as well as in 'Vanguard'.
Before he died, about 15 years ago, Leo talked to me at a 501st reunion. Unexpectedly he said :
"When I croak, I want you to have my medal."
Since Leo was not apparently ill at the time, I was flattered, but figured it would be another 15-20 years before that would happen. Maybe Leo knew something that we didn't, because less than two years later, he was gone.
He had not told his wife of his intentions about the medal, although when my first book was published a few years later, I tried to locate her.
No luck
Then, a few years after that, I was talking to Leo's buddy Gene Madison at another reunion and I mentioned this story to him. He said "I think I can help you son..."
Turns out that Gene was a pallbearer at Leo's funeral. His widow, who re-married soon after, gave Leo's medals to Gene, including the Silver Star Medal.
Gene then told me he would send me Leo's medal, in accordance with his wishes. Besides, Gene had a SSM of his own, which he won as an Airborne Ranger, in the Korean War.
About six months later, a package arrived in my mail and the medal pictured above was in it. To this day, I'm not sure if the former Mrs. Runge has ever seen the photo and tribute to Leo in my books, but the fact that he decided to give me his medal even before my books were in print, is a symbol of the friendship we shared, since first meeting in Houston, in 1973.
Leo's four pocket blouse is also in my collection-I received that from him circa 1978, at Leo's home near Reading, PA.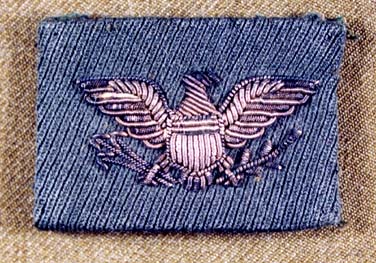 The Bird Colonel's rank eagle above, was made of hand-embroidered metallic wire thread in England, and is from the effects of Colonel GVH Moseley, the regimental commander of the 502 PIR.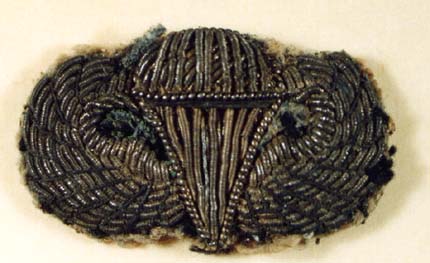 Many private-purchase, hand embroidered jump wings were made for GI's in England. This created many variations, some on blue or OD backgrounds. This example, from a 502 officer, seems to lack any background color, but is an example of the intricate embroidery involved.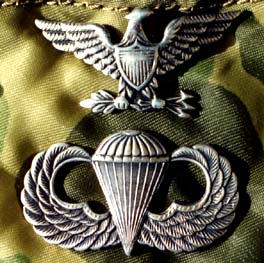 The sterling colonel's rank bird and jump wing (with clutchback fasteners) were made by a New England company for Colonel GVH Moseley, shortly after he returned to the states. They are of somewhat unique design details. Old Moe broke his leg severely on the Normandy drop, and was forced to relinquish command of the 502 to his Executive Officer John H. Michaelis.



Glider Rider's Wing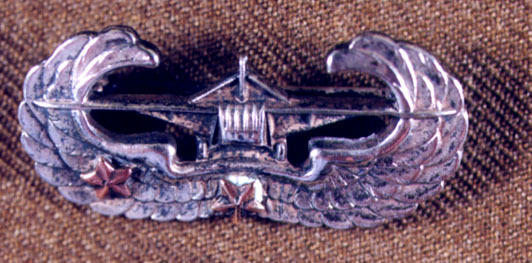 Illustrated above, is the glider rider's qualification badge, worn by Gliderborne infantrymen, artillerymen, Engineers, signallers, medics, and others, who were fortunate to survive crash landing in those death crates. This example is rare, because it bears stars, for two combat landings. Not many members of the 101st Airborne could make that claim, but this belonged to Charles Marden of the 81st Airborne AA/AT battalion, who landed in a WACO glider on D-day morning in France and again in Holland, in September, 1944.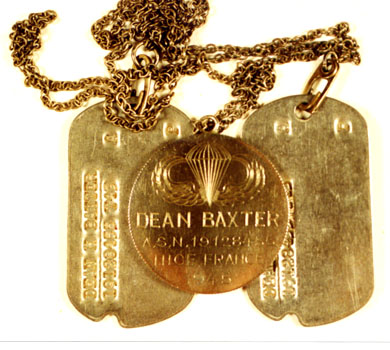 In addition to the dogtags on his neck chain, Dean Baxter of HQ/3 506th wore the medallion pictured above. This was custom engraved on one side of a silver French coin,(the opposite side still looks like a coin). The design includes his name and Army Serial Number,with "Nice, France 9 45". Also a beautifully rendered etching of parachutist qualification jump wings.



SWEETHEART PINS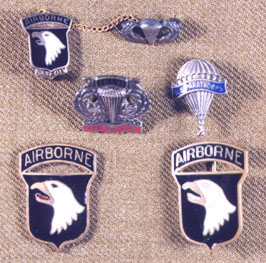 The pins illustrated above are quite small and were mosly purchased as novelty items. The 101st ABD distinctives I suppose could have been worn by division HQ personnel and members of sub units that had no battalion or company insignia. Note that the eagle DI at lower right has a white tongue.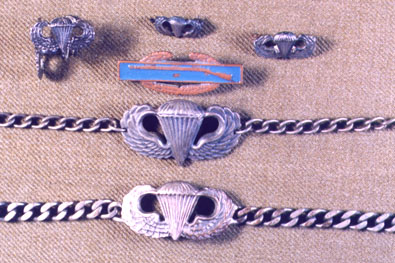 Here are still more P.X. novelty items:top left to right, a set of jump wing earrings, with thumbscrew fastening devices (not for pierced ears), two size variants of miniature wings, a miniature C.I.B., and below, two bracelets with mounted jump wings. All the above items come from the effects of WW2 101st Airborne veterans.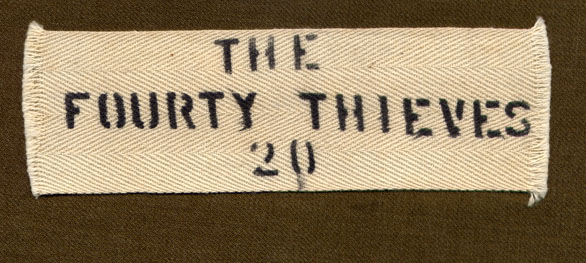 When members of the 506th wore names on the chest of their jackets, the letters were usually stenciled directly to the material on the chest of the garment. An exception is the tag above, worn by 40 members of 1st platoon H/506th, at Ramsbury, England before D-day. This platoon was labeled 'The 40 Thieves' by LTC Wolverton, because wherever they went, objects of value seemed to disappear. Actually one trooper and his accomplice (the 'eyes' of the operation) were responsible for all the looting. Yet the entire platoon was held responsible. Each of the 40 members had a number, and the 'eyes' was #20. Hank DiCarlo told me his number was '13'. The specimen above, is probably one of the few surviving examples of this tag in existence. It would have been sewn to the left chest of an M41 field jacket, above the pocket. I don't know why 'Forty' was mis spelled. Maybe that's the British spelling?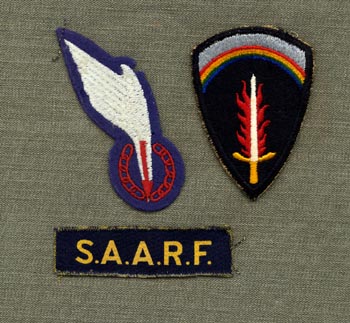 In England in the spring of 1945, rumors had reached SHAEF HQ that, with the end of the war in sight and the outcome a forgone conclusion, Hitler might order the guards at various Stalags and Oflags to massacre all the Allied POWs as one of his final hateful gestures. Plans were made to try to avert this. The 101st Airborne left one regiment in reserve as a possible reaction force if these reprisals were implemented. When the division left for the Ruhr pocker near Dusseldorf, the 501 PIR remained at Mourmelon le Petit, near Reims, France for this reason. In the newly-formed S.A.A.R.F. (Special Allied Airborne Reconnaissance Force), over 200 troops of various nationalities were trained in England (the nationalities were not mixed within 3-man teams). A number of officers and men who had prior combat experience with the 101st, were sent to SAARF in early 1945. The unit only existed for several months. Each team consisted of 2 officers and one enlisted (usually a T/5) radio operator. These teams could parachute into the vicinity of a German Stalag, to monitor events from a distance. In the event of an imminent massacre, they could radio for a battalion of paratroopers to jump ASAP on the camp. Only one SAARF mission was actually launched, which deployed six teams on operation VIOLET. The primary team was captured soon after landing, but treated well, as the Germans knew the tables would soon be turned. Others were actually taken POW by the Red Army near Magdeburg. The SAARF wing and tab were intended for wear at the top of the right shoulder, although they could be worn below a 1st Allied Airborne patch or a former Airborne combat unit patch. Of the examples shown, the wing and tab are British-made. The SHAEF patch (Eisenhower's HQ) is U.S. made and was worn by SAARF personnel on the left shoulder while they were serving in SAARF. These specimens were retained by the executive officer of SAARF and appear courtesy of R. Barker.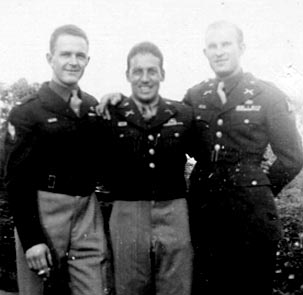 This rare photo shows a trio of SAARF officers in the spring of 1945. The officer at left demonstrates the proper method of wearing the SAARF wing on the right shoulder, while assigned to the unit. courtesy of Sam Carp.



First Special Service Force

At Bastogne, on 14 January, 1945, the 101st Airborne received replacements from the disbanded 1st Special Service Force, a North American unit comprised of American and Canadian troops trained in mountain/ski/parachute and commando warfare. These were not normal replacements, as they came with prior combat experience at Kiska (Aleutian Islands), Italy, Anzio, and southern France. Each rifle company received three jump qualified 1st SSF veterans (one for each platoon), while the 82nd Airborne received a similar number.

The Force had been disbanded and its non-jumping members remained in the newly redesignated 474th Infantry Regiment. This unit received a new arrowhead patch in blue or red, depicting a Viking ship on the obverse. The unit was sent to the vicinity of Nurnberg to hunt for Nazi war criminals. Later, they were sent to Norway to de-commission German occupation troops and send them by boat back to Germany.

Although the red arrowhead insignia of the 1st SSF was no longer worn by its veterans after they joined the 101st, many 101st vets brought them back as souvenirs, given by their new-found buddies. They also recall that the new Force replacements were very visible in their parkas, the hoods of which were lined with bunny fur. They also brought along their V-42 fighting knives.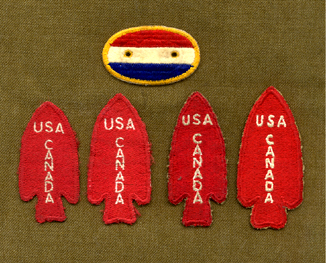 The image above depicts four of the most common 1st SSF patches. The two at left are made in Italy and have a red/white checkerboard appearance on the reverse. Note that one is longer than the other. Of the two most common U.S. made types at right, one is slender, with a well defined stem, while the other is more like a blunt spearhead and also longer, with a fat stem.

The 1st SSF wing oval shown is among the rarest of WW2 backgrounds, and features full cotton embroidery, except for the white section in the center, which is wool felt. The eyelet holes for the jump wings are reinforced with gold-colored cotton thread.



SF Wing of the OSS in Europe

This British made Special Force wing was issued to Lt. Reed Pelfrey in 1944. Pelfrey was initially assigned to H/502, as an assistant platoon leader befoe D-day. In the Invasion, he went-in as security for Lillyman's Base Pathfinder stick of 502 PIR personnel. After surviving the Normandy campaign, including LTC Cole's bayonet charge, Pelfry and his pal Lt. Edward A.Provost volunteered to join the Office of Strategic Services (OSS) and they were parachuted into France ahead of the advancing Allied Armies in late summer of 1944. After being extracted from that mission, they returned to the UK, whereupon Pelfrey acquired this SF wing, then they were sent to OSS Headquarters in Washington D.C., where they met Wild Bill Donovan. The duo were then redeployed to the opposite side of the world, where they parachuted-in near the Shanghai railroad on another mission. Reed developed apendicitis on that mission and that signaled the end of WW2 combat duty for him.
The SF. wing pictured above was added to the webmaster's collection in October of 2005.





The Obscure Insignia of the Army Physical Training Unit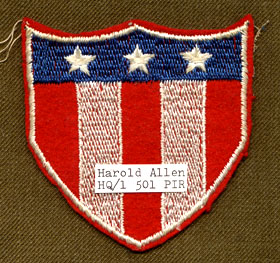 It was US Army policy in WW2 to rehabilitate wounded soldiers with combat experience and send them back into combat, after they had been hospitalized with wounds. This seems rather unfair, that seriously wounded soldiers would be sent repeatedly back into the fight, rather than allowing others from the Army's vast manpower pool to have a shot at it.
Some soldiers who had special aptitude for athletic endeavors, but who were not slated for combat duty themselves, were placed as instructors in the Army Physical Training Unit in England. This unit was solely concerned with giving exercise and physical therapy to combat-wounded GIs, to prepare them for a return to full combat duties. ASMIC magazine ran a photo of a soldier wearing the insignia of the Army Physical Training Unit back in the late 1980's, but almost no accompanying information was given with the photo.
About 15 years ago, I knew a veteran of the 1st Bn, 501st PIR, named Harold Allen. Like many paratroopers, Harold was a physical fitness nut and health fiend and a sports competitor. He went through training at Toccoa, GA, Ft Benning,GA, and Camp Mackall, NC, with the 501st, but on a night practice jump shortly before D-day, Harold broke a leg upon landing. The nature of his injury put Harold out of the Paratroops for good. After his leg had healed, Harold was assigned to take classes and join the Army Physical Training Unit at a town "somewhere north of London". Harold took notes in his classes and I now own his notebook, which indicates that he received lessons in human anatomy, first aid, and how to instruct others in unarmed combat and boxing. The first page of Harold's notebook contains a hand-drawn picture of the APTU pocket patch, with an explanation of what the various design symbols represent: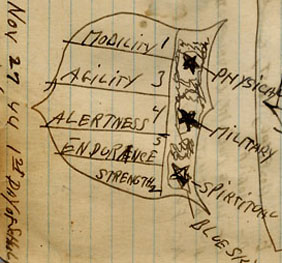 Since so very little has been known about this unit, Harold's notebook and drawing are a significant find for insignia collectors. Among the other effects I got from Harold, were some photos taken in England, while he belonged to this Physical Training unit. The photo below shows how the pocket patch was worn on a black pullover exercise shirt, (of British manufacture), while the instructors were putting their patients through physical therapy exercises.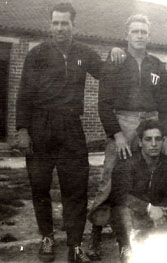 You'll note one man in the photo wears the complete suit, shirt and pants, while the man at right has his shirt tucked into green HBT fatigue trousers. The pocket patch is plainly visible on the man standing at right.
I also own Harold's exercise suit, shirt and pants, which are black in color. Both bear manufacturer/size labels indicating Brit manufacture. The garments are made of thin black twill material. The waist of the pants is elasticized, as is the bottom of the shirt. There are vertical zippers at the inner bottom of each leg, at the ankles. Unfortunately, the pocket patch was removed from Harold's shirt, but he did give me an original example seperately, which is depicted at the top of this article. Not surprisingly, the patch is also of Brit manufacture.

On other garments such as Class 'A' shirts or jackets, a red rocker (tab) with white letters was worn above an ETO Advanced Base SSI. I also obtained an original example of the APTU tab, which is of typical Brit manufacture, having white cotton thread letters on a red wool base. An unattached rocker I obtained from Harold is depicted below, shown as worn, with a generic ETO SSI:
I was also fortunate enough to get a photo of a GI wearing the APT tab above an ETO SSI from Harold. Sadly, the name of the GI was not known: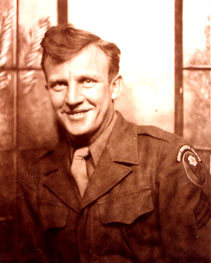 During the time Harold served in this unit, he sometimes wore his M42 jacket, which was now adorned with a APTU tab above a Type B-1 eagle patch of the 101st Airborne. Harold's M42 jump jacket is also in the webmaster's collection. Harold Allen died suddenly about 12 years ago, in Springfield, OH. He was playing handball and sat down to rest between matches. He was suddenly stricken with a massive coronary and died at the scene.
I hope the info and photos above will prove to be of interest to my fellow insignia collectors. I'll close this article with a photo of Harold's M42 jacket, with the APTU tab in place above his Brit made 101st SSI.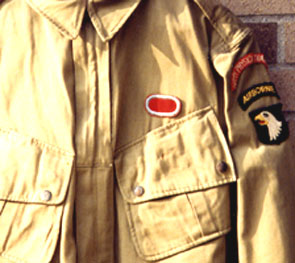 Both the Belgian Fourregere and the Dutch Orange lanyard are shoulder ropes, worn around the left shoulder and looped under the armpit. The Croix de Guerre is a medal, awarded to only a few individuals and is not correct for a 101st soldier. The shoulder ropes were issued to units, in which everyone in that unit was entitled to wear it. The Belgian Fourregere is a woven and somewhat intricate aiguilette, while the Dutch lanyard is a single cord, about the same thickness as parachute suspension line, which loops around the shoulder. The French also had a medal named the Croix de Guerre (Cross of War), but that medal was also awarded on an individual basis, not as a unit citation. There were about a dozen, maybe 15 soldiers in each regiment of the 101st who were awarded the CdG for Normandy, but how it worked was, each battalion was given a few (4?) and the Bn commander was told to select one individual from each company, to receive it. The guys who received the CDG, were not generally awarded it for one specific act, but for general leadership and superior performance. So even though the Croix d G was awarded to specific individuals, the criteria was not usually to recognize a specific act, if that makes any sense.
The braided cords on the Belgian award are thicker than the Dutch lanyard and I've seen 2 versions-a simpler one, with a single pair of thick Braided red cords with green highlights, and a more elaborate one, in which the thicker cords go around the armpit, while 2 thinner ones are on the outside of the arm and two additional smaller cords with brass 'fire hose nozzles' on the end, hang down in front.
One last bit of info, I'm not sure when the Dutch Orange Lanyards were actually awarded, but the Belgian Fourregeres were presented to 101st troops VERY LATE in 1945. This was several months after the 501st had been inactivated in July, 45. So many of the 'high points' soldiers were already back in the states, and they missed the award ceremony. Many former 501st men who were still overseas, were now scattered in the 502, 506th, 327th and other sub-units of the 101st Airborne Division and they would've received the award if they were still overseas around Nov. 45, but they would've been in other regiments at the time. The main thing is that MANY former soldiers, who were now veterans, heard about the award but never received it physically and many told me they went to a local surplus store and purchased a Fourregere, to add to their uniform, after they were discharged and out of the Army.
The WWII vets received no instructions nor regulations on how to properly wear these and you usually see one on each shoulder. However, at some point after WWII, the Army decreed that all shoulder aigulettes could only be worn on the left shoulder. Few units are entitled to wear more than one, but it gets pretty darned crowded, having two of those gadgets on a single shoulder. The French also had a braided version of the Fourregere, similar to the Belgian one, but the French one is predominantly green, with tiny red flecks on the woven cords and the 101st guys were NOT eligible to wear those, although after discharge, some individuals mistakenly went out and bought the green aiguilette and attached it to one shoulder. I've seen a number of 82nd jackets with the green French fourregere attached, so perhaps they were eligible to wear it?
But a improperly-adorned 101st jacket will have the French Fourregere on the right shoulder, the Belgian one on the left, and the Dutch one doubled-up with one of the other awards, usually around the left arm pit.